About us &

our mission

with clear masks
About us &

our mission

with clear masks
AccessibleMasks.org is a passion project–if you appreciate our resource, feel free to support us and keep the site running smoothly!
Frequently Asked

Questions
Jump ahead to any section of interest
Why should I wear a mask or face covering?
---
As you may very well know, we're living in a pandemic that has sickened millions and killed hundreds of thousands globally. Face masks are scientifically proven to be one of the strongest ways in slowing the spread of the novel coronavirus. They help people stop from spreading or contracting the virus.
---
How are current face masks inaccessible?
---
Well, most face masks—like the standard disposable surgical masks, DIY fabric face coverings, bandanas, or scarves—fully cover the mouth. These common mask styles completely block any chance for lip-reading, facial cues, or facial expressions. Wearing a fully-covered mask makes communication inaccessible for those who are deaf or hard of hearing. They also make it difficult for older people to communicate easily, a group greatly affected by the pandemic.
---
Who am I helping by wearing an accessible face covering?
---
You're helping the deaf and hard of hearing–that's more than 466 million people globally, or 5% of the world. In the United States, this is about 15% of American adults who reported issues with their hearing. Wearing an accessible mask ensures access to daily communication for a large part of the world as we live through this current pandemic. It's more than just "seeing someone's smile."
---
What's an "accessible" face covering?
---
An "accessible" face covering has a clear, transparent, see-through window where others can see more of the wearer's face and mouth for easy communication. There are also emerging specialty face shields with necessary neck protection, such as, the Humanity Shield. Flip through our curated list of masks and get one for yourself!
---
Who should be wearing a clear mask? Why should I?
---
Anyone communicating with someone who has a hearing loss should wear a clear mask. You'd be making conversations easier and less stressful for deaf and hard of hearing people. Since hearing loss isn't a visible disability, everyone should wear a clear mask when around others–no matter what. It's also setting a precedent to make accessibility the norm.
---
Sheesh... I have a really cool mask, though. Now I need another?!
---
Hey, wear your unique mask–for Instagram or for your secluded morning walk–we love it too! However, when you're knowingly going to be talking with others, opting for a clear one will significantly make communication easier. Also, take a look at some of the cool transparent masks available, such as the bright patterns from Rebirth Garments and the sleek minimal design from Sachika. We also understand money can be tight—so we selected plenty of budget-friendly options you can wear multiple times!
---
---
Mask it up
The point of masks and why we need accessible ones
How should I take care of my clear mask? How do I ensure it's COVID-19 free?
---
Great questions! Taking good care of your clear masks isn't all that much different than taking care of the standard mask. Here's a handy list for you. In general –
When taking your mask off –
Wash your hands beforehand
Only touch the ear loops or head ties when taking it off–avoid touching the front of the mask
Put it in a closed, breathable container, such as a paper bag, away from common spaces between uses
Wash your hands immediately after removal
After wearing your reusable mask a few times, wash it according to its care tips
---
Well... can I wash a clear mask with the plastic and all?
---
Yes! It's very similar to washing other fabric masks. A lot of the businesses we have on our site have their own set of instructions, so we suggest reading those and abiding by them. If your accessible mask vendor doesn't provide care tips, it's best to hand wash your reusable clear mask with soap and hot water. You can put it in the washing machine if you do a gentle or delicate wash with a load that isn't too heavy. Afterwards, hang it somewhere to naturally air-dry. (Fresh air is your friend.) We don't recommend putting it in the dryer since it could affect the plastic.
---
*breathes* What about fogging?
---
Good thought! Very similar to glasses, fogging does happen with clear masks—but there are easy solutions with anti-fog products you can purchase or with remedies using stuff you have at home! Check out the next two questions!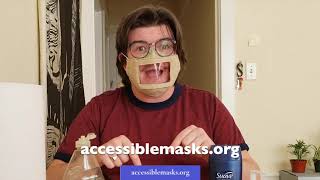 ---
Can I stop fogging with stuff I have at home?
---
Absolutely. All you need is dish soap, hand soap, or baby shampoo, and clean hands! Drop a very small dab of the soap—the size of a shirt button or less—onto the inside layer of the clear mask. Spread and rub it across the entire span of the inner plastic with your finger. Letting it air-dry before using it right away helps! Here's our co-founder, Jake deHahn, showing you a variety of solutions and how they all work tremendously! (CC is enabled)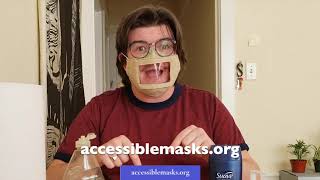 ---
Is it hard to breathe with the plastic, though?
---
It's not any different than the face masks you're already wearing.
---
I have anxiety wearing a mask. What do you recommend?
---
We totally understand—wearing masks is new for most of us. Your emotions and anxiety are 100% valid. Here's an idea: It may help to start wearing the mask bit by bit. Wear it for 20 minutes when comfortably sitting and watching TV, reading a book, or doing your favorite relaxing activity. Try wearing it again while doing errands around your house, like the dishes or laundry. Then go for a walk in your neighborhood. We hope you'll feel comfortable wearing your clear mask confidently on your outings after! ** Call 1-800-273-TALK or text "HELLO" to 741741 if you want to talk to someone. Anxiety is real and there are people available to listen and help you.
---
---
Mask care
The basics of owning, wearing, and caring for accessible masks
Are clear masks FDA approved? Which ones are they?
---
Not all of them are. The Food Drug Administration (FDA) checks medical devices to see if they meet standards on use in medical settings. Pandemic shortages have led to requests for the general population to save medical-grade masks for frontline workers. If you need medical-grade masks, we're proud to showcase two options on our database: Both The Communicator™ and the ClearMask™ have been reviewed by the FDA. The ClearMask™ is FDA-cleared and meets ASTM Level 3 standards. [ FDA approval PDF] The Communicator™ by Safe'N'Clear is a FDA-registered mask that meets ASTM Level 1 standards. [ FDA approval PDF]
---
What is accessiblemasks.org?
---
Hello! We're glad you're curious–and hope you have a transparent face covering soon! accessiblemasks.org is a project created by two deaf brothers born and raised in New England: Jacob deHahn, a UX/UI & research designer in San Francisco, and Patrick deHahn, a journalist in Brooklyn. Read more about us here. With zero financial strings, this website is solely built as a curated platform for people to easily find clear face masks and help make the masked world accessible for the deaf and hard of hearing.
---
Why accessiblemasks.org?
---
First of all, we take the pandemic seriously and encourage mask usage. We've personally dealt with the challenges of how the masked world is inaccessible. Our goal is to have accessiblemasks.org be an easy go-to resource for everyone to start wearing an accessible mask—which includes those in service industries, school systems, essential businesses, elderly care, and the election process. Whether you buy a mask for yourself personally or encourage others to transition to clear masks, we thank you for joining us in our mission towards global accessibility. Stay safe and be healthy. 🙏
---
How'd you find these businesses?
---
Most of these businesses and vendors were found through our own research and verification (some we purchased and/or were recommended by other deaf and hard of hearing friends). We communicated with each business and verified their goals in supporting accessibility. All photos provided on accessiblemasks.org have been approved by each business.
---
Can I contact you? Can I recommend a business/vendor?
---
Please do! 👍 We're at accessiblemasks@gmail.com if you want to shoot us an email, or catch us at @accessiblemasks on Instagram. If you know of a vendor you like and support, please don't hesitate to pass them along to us.
---
What does the CDC say about clear masks?
---
The Center for Disease Control and Prevention (CDC) recognizes the value of clear masks, and advocates for their use when around deaf or hard of hearing people. In fact, the CDC's guidance was changed when the American Speech-Language-Hearing Association wrote to the US agency urging it to update their considerations on mask use so it would include the deaf and hard of hearing population. Here's the CDC guidance:
People who are deaf or hard of hearing—or those who care for or interact with a person who is hearing impaired—may be unable to wear masks if they rely on lipreading to communicate. In this situation, consider using a clear mask. If a clear mask isn't available, consider whether you can use written communication, use closed captioning, or decrease background noise to make communication possible while wearing a mask that blocks your lips. Doctors recommend that you make sure the accessible mask covers your nose and mouth, is made well with strongly woven layered cloth, and with no breathable holes through the plastic or cloth.
---
---
And more...
Some nitty gritty details you may be interested in
Want to learn more about accessibility or are you curious who's behind this project?