About us &

our mission

with clear masks
About us &

our mission

with clear masks
AccessibleMasks.org is a passion project–if you appreciate our resource, feel free to support us and keep the site running smoothly!
Making the masked world accessible,

one clear mask at a time.
The ClearMask™
or use code ACCESS at checkout!
*Note: AccessibleMasks.org will receive a small percentage of the sales when you use the coupon code. This helps us run the resource!
Shoot, there aren't any masks that fit your criteria. Try searching again.
Scroll through our directory of vendors (or narrow down your search with our filters) and go to their site.
Made by a team led by a mother and daughter, with proceeds going towards San Diego theatre artisans.
Material
Amount
+ Other
Featuring a mask by deaf actress Millicent Simmonds with proceeds to Deaf Women of Color + Texas Hands and Voices.
Material
Amount
+ Other
FDA-cleared | Created after experiencing difficulty communicating with only solid face masks during surgery.
Material
Amount
+ Other
The top questions asked by you
You ask these regularly, so we're answering them!
*breathes* Can I stop my mask from fogging up? How?
---
Yes, you can stop your new clear face covering from fogging up and it's really simple! Here's a video of our co-founder, Jake, to explain how (CC enabled).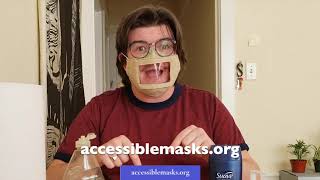 Notes: - Dish soap, shampoo, and hand soap all work wonderfully (and you have them in your home already!) to reduce fog. - Anti-fog products are available for purchase from some of our vendors and others have a special anti-fog plastic as well. - Make sure you wash your masks frequently!
---
I want to share your site, interview you, or feature you in a publication! Can I?
---
Of course! AccessibleMasks.org is meant to be shared all over the world in any way possible. We encourage you to tell your friends on social media, text your family to get a couple, and get one for yourself. We've been featured in a few articles and are always willing to be interviewed/featured. Contact us at AccessibleMasks@gmail.com and we'll set up time for a video call or email exchange. We look forward to hearing from you!
---
Are you making money or being paid by these vendors to be featured?
---
Nope! (Unless you donate to our ko-fi page, which is greatly appreciated!) We run AccessibleMasks.org completely out-of-pocket because we believe the need for a central resource for transparent face coverings is essential in a masked world. We've scouted our vendors by our own research and recommendations from other deaf friends. The goal is to have a variety of different mask types from businesses with unique backgrounds.
---
---